Keep Your HVAC Systems Humming with Routine Maintenance
6/30/2020 (Permalink)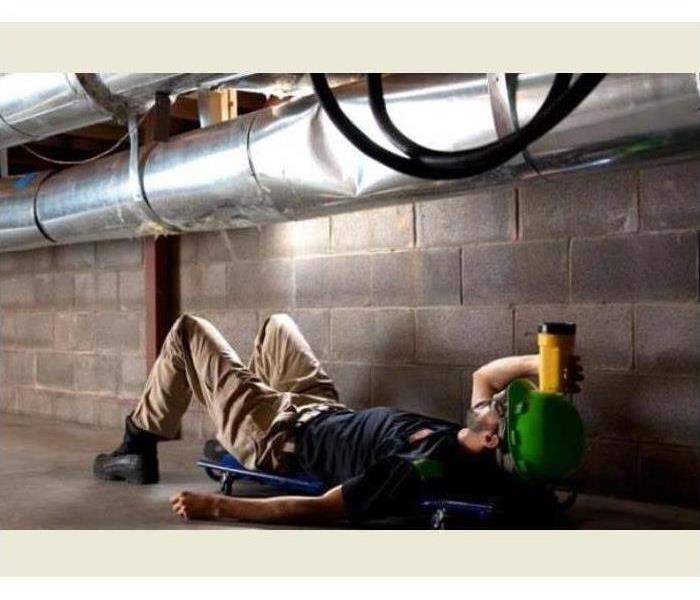 A clean, well-maintained HVAC system will be more efficient, more reliable and last longer, saving you money over the years.
As a business owner, you know that your facility costs account for a large percentage of your spending each year. Besides rent or mortgage expenses, energy costs are considerable—U.S. businesses spend $400 billion on energy alone each year!
HVAC systems, along with lighting, are the biggest energy consumers in the average commercial building. Regularly maintaining these systems will mean they're more efficient, less likely to break down and will last longer—and that will save you money in the long run.
Follow this advice to keep your building's HVAC equipment in top shape, consuming less energy and serving you longer.
Preventive HVAC Maintenance in the Spring and Fall
Preventive maintenance should be performed in the spring for cooling systems and in the fall for heating systems. Preventative maintenance serves as a tune-up for your building's HVAC systems, helping them run more efficiently throughout the season.
Hire a commercial HVAC professional such as SERVPRO of Bloomfield/Enfield to inspect and clean your system. If maintenance is needed, it can be done right away without inconveniencing you or your employees.
These outdoor components should be inspected, cleaned, lubricated, adjusted or replaced if necessary:
Coil and cabinet
Drain pans and condensate lines
Compressor
Fan motor and blades
Control box, switches, wiring and safety controls
Refrigerant
These indoor components should be inspected, cleaned, lubricated, adjusted or replaced if necessary:
Blower assembly and housing
Belts
Evaporator coil, drip pan and condensate lines
Burner assembly
Ignition system
Safety controls
Heat exchanger
Flue system
Control box, wiring and connections
Air filter
Duct system
Other Routine Maintenance
Air Filters
Restricted airflow through the HVAC systems limits performance and increases energy consumption, while using clean air filters can lower energy consumption by up to 15%.
Inspect air filters every three to four weeks to be sure the filter has not become clogged.
Change air filters every three to six months (or more often if usage is heavy). Use a high-efficiency, pleated air filter.
Programmable Thermostats
Check your programmed thermostats at the beginning of the heating and cooling seasons to make sure that the settings still fit your needs.
Check thermostat operation monthly, and repair or replace if necessary.
With proper HVAC maintenance, your building's heating and cooling systems can operate more efficiently year-round and generate energy savings for your business.
If your business is hit by a water, fire, smoke, chemical, mold or other disaster, call SERVPRO of Bloomfield/Enfield at 860-216-2785
Help Is Here
The team at SERVPRO of Bloomfield/Enfield has specialized training and experience to quickly clean up and restore your commercial building and property after a natural disaster. We also offer year-round commercial cleaning services and HVAC maintenance. Call SERVPRO of Bloomfield/Enfield at 860-216-2785.
Other Helpful Blog Posts
SERVPRO publishes educational articles on how to protect your home and business from disasters and how to deal with mold, fire, water, sewage, storm and other damage.
Commercial Cleaning Services by the Pros at SERVPRO
SERVPRO of Bloomfield/Enfield
Top 50 Franchise Nationally
100 Peters Road, Bloomfield, CT 06002
IICRC Certified
Ralph DiCristofaro
Certified SERVPRO technicians
Call 860.216.2785
24-hour emergency service
If your business is hit by a water, fire, smoke, chemical, mold or other disaster, call SERVPRO of Bloomfield/Enfield at 860-216-2785